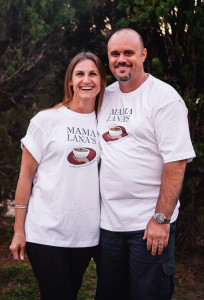 The Directors of Mama Lana's Community Foundation, husband and wife duo Roger and Lana Borg, work full time jobs, have seven children aged 9-30 years old, four grandchildren and five well loved dogs.
Back in October 2013, Roger and Lana cooked for the fire fighters battling the Blue Mountains bush fires. The duo delivered 350 meals a day over a 12 day period during the fires as well as cooking BBQ breakfasts and dinners for the Volunteers. Then in November they were asked to cook a banquet Christmas Eve dinner from a carpark in Penrith for the homeless and underprivileged. After contacting Vinnies, Roger and Lana organised to go down to the Penrith carpark location Vinnies regularly attended to "check it out". From here, Roger and Lana realised there was a great need in our local community to help feed the homeless and underprivileged and began delivering meals four nights a week. When the need arose, Mama Lana's Community Foundation increased meal services to the current arrangement of six nights each week.
Lana says, "We want to let these beautiful patrons know that there are people out there that truly care and help them get back their self-respect and dignity so they can eventually get back on their feet." We believe in kindness with no strings attached, and, with love and commitment, Mama Lana's is doing everything we can to achieve this.
Mama Lana's Community Foundation (MLCF) is a wholly not-for-profit organisation dedicated to helping our often forgotten homeless and underprivileged community in the greater Penrith region, to advance their wellbeing and prospects for future independence. The foundation offers hot meals six nights a week, supplies food and toiletry packs, as well as providing clothing, sleeping bags, swags and blankets to keep the homeless and underprivileged warm during cold Penrith nights.
MLCF also work with and assist other local charities and support services. When we can we respond to crisis calls from people who need a hand up with food, clothing, furniture, and in some cases, financial issues.
We also liaise on behalf of the patrons with Centrelink, Penrith Council, Department of Housing and other resource centres and government departments to help the patrons any way we can to make their lives more comfortable and bearable, as well as seeking to find long term solutions to better their circumstances. Each night we are seeing new faces, reinforcing to us that the need for our service is necessary.